NEXT EVENT
30th march sweet sundays at herts country club
DJz garna(east connection),Trooper(Shine),lewis RManic,GavJ,Ross antony


RIP UP SQUAD


(wheela b2b logic),Dail b2b blazer
Mcs mystery,Townie,Ryder,fatality,Lil Danja,Tappa,Flava,lady tiny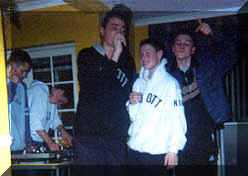 Rip up Rinse out
News and History
22 Aug :: DJ logic plays out at the buzz bar b2b dj Charlie P (zest fm)

29 Aug :: Rip up squad perform at garage bling @ academy (Stevenage)

3 Sept :: Mc Fatality, Mc Danja, Mc Markey T, Mc Tappa B Mc E1. perform at old owens bar.b2b mc freeky B (knockout sqd)

14 Sept :: DJ logic rinses out at buzz bar b2b dj a-go
23 Sept :: Mc fatality, Mc Markey T, flow b2b DJ TnT, Mc Logie, Mc Hatch @ academy

31 Oct :: Rip up (full family) perform with DJ Logic dropping in the heavyweight tunes.Mc tappa B flows b2b musical mob @ academy

31 Oct :: Mc Tappa B + Mc Fatality chat b2b ddp family (dirty dog promotions) @ Cobarna (stevenage)

2 Nov :: Rip up mcz perform at buzz bar
27 dec :: Rip up perform at urban glamour mcz danja tappa fatality rinse out as dj logic runs the dex.
8th jan :: DJ shreddah performs at old owens (potter bar)
hear dat was a sick set.
18th Feb:: Ripupsquad perform at there Bashment(fall Family)Rinsing out,Safe to everyone that came,big up U.G promotions.
21st March:: Bashment show down at club aero(west London)
Fatality,Tappa B,guest mcs,allstar an witty.